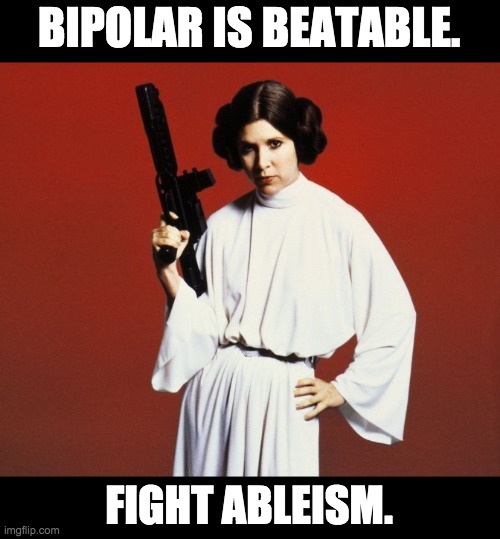 Today is National Bipolar Awareness Day
Education is key.
March 30, 2020
Some things you should know about me: I am Bipolar Type I. I have always considered myself a success story. A poster child for treatment and medication. And I've been able to achieve a lot in the past 20 years since diagnosis.
A friend who suffers from anxiety and depression told me, "I  figured you had all of the same problems as me, only worse."
No, not really. I don't have a personality disorder. I never really had any serious issues with trauma until a year and a half ago.
One in 23 Americans experience bipolar at some point in their lives. Many bipolar people experience no symptoms at all with medication. They are able to go back to normal life.  Most people with bipolar disorder are closeted, and that is because the stigma is so bad. We are always at risk for gaslighting. Many people will not willingly associate with us. Yet I have close friends, clients, and professional colleagues that knew me for years before I ever told them my diagnosis. They said they said they never would have guessed.
I happen to believe that stigma, even more than the disease, is why our death rate is so high. How high? As high as 17% over a lifetime. To put that in perspective, annualized over the first 50 years after diagnosis, the risk of suicide if you are bipolar is about one third as high as the risk of dying from COVID-19. They are comparable.
The bipolar death rate is probably quite a bit higher in actuality, as many suicides are not reported as such and because the disease strikes people most commonly in their teens and twenties. I am told that if you can make it past middle age, symptoms decrease, particularly for women. This has proved true for my mother, who is also bipolar.
For me a lot seems to do with having access to the right formulation of Lithium (brand name vs. generic).  Switching to brand name Lithium (Lithane) worked wonders for me, probably because the quality control and dosage standards are much higher. The catch is that this formulation is at present only available in Canada.
What is it like to have a manic episode? It's hard to describe. A mild manic episode is disorienting and disabling — you can't really work except for simple tasks like housework or cleaning. Inhibitions are lowered. You might do things you would do if you were drunk, like have a fling with someone or buy stuff you don't need on Amazon.
A full-blown psychotic manic episode is very different. It's more like a hallucinogenic drug trip — and we're not talking microdoses. It puts you in a different reality. For example, I might wander outside my house and onto the bridge nearby, not really knowing what I am doing or where I am. I might get on a bus and just ride for half an hour.
There is a mystical component. You feel like you are at one with the universe. Music sounds amazing. Colors and tastes are more more intense. Some bipolar people enjoy the "high." I have never sought it out. For that matter, I've never tried any drug stronger than pot. It's not that I'm not curious. Just too risky with my brain chemistry.
For me, mania has always been highly correlated with insomnia and sleep disruption. Psychotic mania can be treated successfully at home, if you have the right drugs. The safest option is probably to go inpatient.
Not much happens in a mental hospital. There are no miracle drugs or aggressive treatments. You just take your Perphenazine and mill about in a safe place, eat bad food, try to focus your concentration enough to play a card game or read a few pages out of a book, and wait until someone decides you're well enough to go home.
To be honest, it feels a lot like… now.
Like the Coronavirus Lockdown.
The same boredom. The same impatience. For those who have never been through something like this before, the only advice I can give is to try to keep yourself occupied, and try to be courteous and respectful to the people around you. This too shall pass.
---
For more resources, articles, and advice on living with bipolar and being present for the bipolar people in your life, visit my Quora page.
Due to the COVID-19 pandemic, I have scaled back my coaching practice considerably. I have a limited number of phone and video entrepreneurial and coaching slots available. Full professional resume and credentials available on request.